We have been making dukkah, commercially, longer than anyone else in Australia! Yes; since 2002!
We belive that we make the best dukkah available (well, our customers keep telling us this); one of the reasons is that we roast each batch of nuts and seeds, for the perfect crunch, each time that we make our dukkah.
Dukkah can be used as a nibble, on your eggs, avocado, salad, roast veggies, soup…
Each pack of 3 contains a 150 gm tub of our Egyptian, Bush Tucker and Warm Spiced dukkah.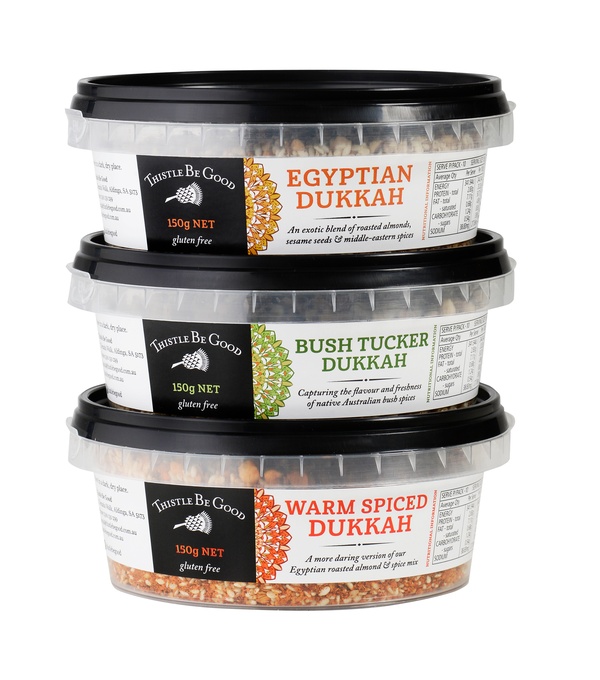 Egyptian is the most popular to use in the traditional way; take two small bowls and put the dukkah into one then some fresh and local olive oil. Get some crusty bread, cut or break into chunks and dip into the oil then into the dukkah; so delish!
I love the Warm Spiced Dukkah with my Salmon Salad. The Bush Tucker one is delish with fish! Either lightly crumb fillets or simply sprinkle on after cooking. The Lemon Myrtle in the Bush Tucker compliments it perfectly.
The Warm Spiced is a winner when used in meatball mix; yes! Mix it into or sprinkle on so many things.
Dukkah Pack
Dukkah Pack
Dietary Requirement: Gluten Free, Vegan
Product Code:

Dukkah Pack

Availability:

In Stock
---
Artisan information
Country: Australia
Region/State: South Australia
Business: Thistle Be Good Pty Ltd
Total products: 15
---