Most ancient grains have a delicious chewy texture. Especially the super-popular freekeh (green wheat). Many provide useful grain alternatives for those searching for healthier or tastier options. What's more, they are usually cooked in the "whole grain" form. This is nutritionally much more beneficial than the over processed and refined modern grain products.
Often described as "super grains", ancient grains offer us much in the way of natural nutrition and positive health benefits.
With many different nuts, seeds and legumes added these provide so many delicious and nutritious ingredients. You will be delight in them!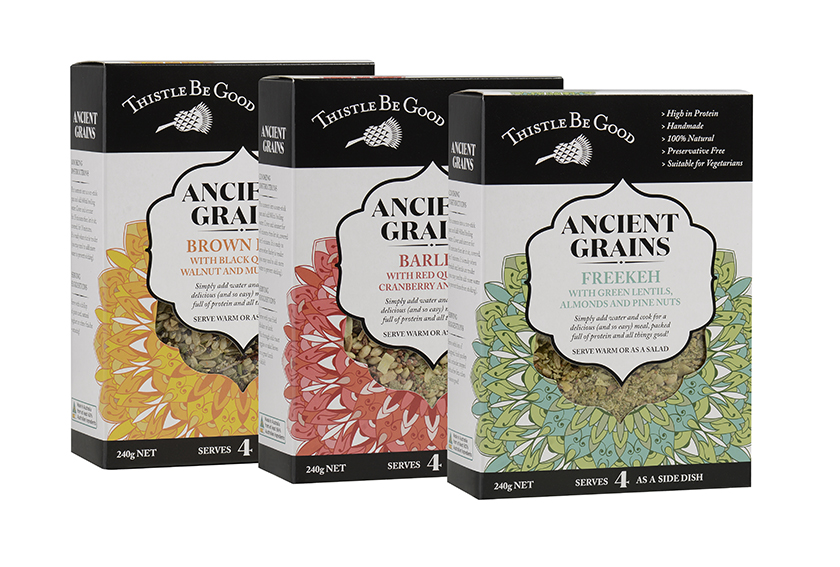 All of the delicious Ancient Grains can be enjoyed simply cooked up as they are and enjoyed as a hot meal. You can serve with one of the serving suggestions or allowed to cool and have as a beautiful lunch, with salad or roast veggies – yum!
All sound delicious? Can't choose which one you want to try? Make it easy and try all three for a super-discounted rate!
Try our Brown Rice with Black Quinoa, Walnut and Mushrooms, our Freekeh with Green Lentils, Almonds and Pine Nuts and our Barley with Red Quinoa, Cranberry and Mint – I wonder which one will become your favourite – so hard to single one out! I know which one is mine – let me know which one is yours!
Ancient Grains Selection Pack
Ancient Grains Selection Pack
Dietary Requirement: Vegan
Product Code:

Ancient Grains Selection Pack

Availability:

In Stock
---
Artisan information
Country: Australia
Region/State: South Australia
Business: Thistle Be Good Pty Ltd
Total products: 15
---
Tags: #vegan #vegetarian #readymeals #ancientgrains #freekeh #barley #brownrice